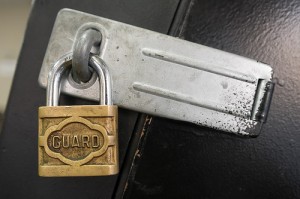 A very nice sample information security policy template can be found on the freedownload.is site here.
Here's a sample of the policy template which is fifteen pages long:
II. SCOPE

A. The scope of information security includes the protection of the confidentiality, integrity and availability of information.
B. The framework for managing information security in this policy applies to all ORGANIZATION XYZ entities and workers, and other Involved Persons and all Involved Systems throughout ORGANIZATION XYZ as defined below in INFORMATION SECURITY DEFINITIONS.
C. This policy and all standards apply to all protected health information and other classes of protected information in any form as defined below in INFORMATION CLASSIFICATION.
If you need help getting started with your own Information Security Policy, this sample infosec policy template is a great starting point.
Image source: CarbonNYC